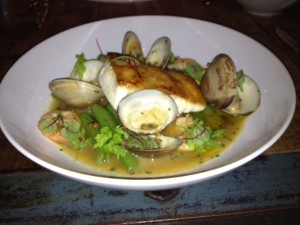 A second visit to Two Boroughs Larder on August 3 proved to be as good or better than my first experience. The Larder was happy to allow me to bring in a bottle of wine and I selected a bottle of the 2008 Newton Unfiltered Cabernet Sauvignon that was mentioned in my post about the Newton Wine Dinner at Carolina's. Of particular note on this visit were the Almond Soup, the Barrelfish Brodetto, and the Bavett Steak. The fish was presented with clams and shrimp and an assortment of lovely vegetables. The steak, similar to flank steak, was juicy and tender and served with roasted vegetables. My daughter, Hilary, was with me for this feast and, of course, we were sharing dishes. When I suggested we switch plates she said that she was surrendering her steak to me "regretfully". It was that good! Heather and Josh presented us with an assortment of desserts on the menu that evening and we swooned over the budino which is a chocolate dessert similar to pots de crème. It was dense, rich and silky smooth with garnish of hazelnuts and pickled blueberries. Congratulations 2BL on your first anniversary and another memorable dining experience!
Another return visit was to Husk Restaurant for lunch on Monday.  Hilary and I both selected cat fish, hers as part of a delectable "BLT" and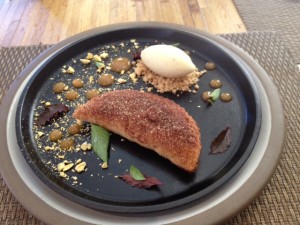 mine sautéed with assorted vegetables.  Both were excellent and although we felt satisfied and really didn't want dessert, the peach pie was calling us!  It was presented in the form of a turnover and served with a dollop of brown butter ice cream.  Worth the calories!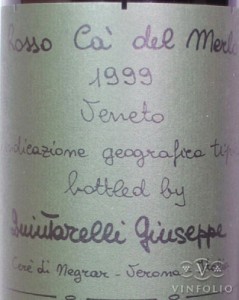 In the last of local news from summer, Marie Sauer and Kevin Kelley hosted a fantastic wine tasting at La Fourchette.  It featured an excellent assortment of French White Burgundies, French Red Burgundies, and Italian reds, all from smaller producers. One of my favorite wines of the evening turned out to be a Spanish wine (that was intended only to "wake up" our palates) called Las Colinas Garnacha Blanca.  The most interesting wine of the evening, for me, was the 1999 Quintarelli Rosso Ca del Merlo from the family of the famous Giuseppe Quintarelli known as the "father of Amarone".  The Rosso is a single vineyard Valpolicella that is brimming with ripe dark fruit, spice, and an underlying earthiness.  This is an expensive wine (in the $75 range) and not easy to find, but a worthy investment.  The handwritten label is unmistakable.
Life is short – eat and drink well!